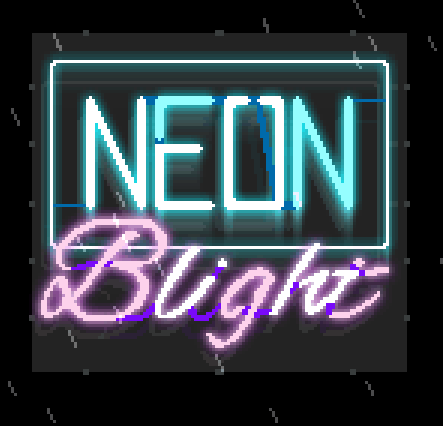 Neon Blight Pre-Alpha
Welcome to Neon Blight!
*THIS GAME IS EXTREMELY EARLY IN DEVELOPMENT AND IS CONSIDERED TO BE A PLAY TEST BUILD*
Neon Blight is a roguelite/management game in active development, where you acquire firearms and sell them with enthusiasm
Description:
Explore and shoot your way through a forest filled with enemies and bosses collecting randomly generated guns.
Walk around a cyberpunk town filled with detail, meet interesting people, complete quests, and customize/manage your own gun shop!
What the game will be:
Multiple characters to choose from!
A full cyberpunk town to explore and interact with!
A customizable gun shop!
Randomly generated weapons!
NPC quests!
Fight varied enemies and bosses!
And more!
my twitter: @1pxlchibs
main menu music by failpositive
This game is not done, So bugs might happen and content is pretty limited, but yeah
Have fun and let me know what you think of it
Download
Click download now to get access to the following files: